You'll love the way they grow at YMCA Child Care
With over 40 years of experience, our child care services paint a bright future for little minds. Through play-based learning, our enthusiastic educators provide quality care that helps children grow into happy, healthy, confident kids.
Here at the YMCA, community is our commodity. Our staff are truly passionate about helping your child grow. We believe it's important to create a familiar environment and safe space for your children to learn, explore and play. Our understanding of each unique child helps us to provide excellent care day in, day out.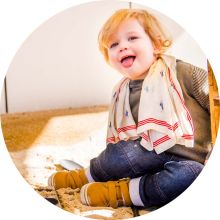 My Son has been going there for close to 6 months and we love it. His speech, social skills have fantastically improved as well he learnt so much! He loves the garden, baking and the helicopter! Teachers have all been so helpful to me! Lots of care taken.
Want To Know More About Our Child Care Services?
Finding the right child care for your family is important. Speak to our child care support team today!
Safeguarding Children
The safety and protection of children and young people is paramount. We are committed to safeguarding children and young people through stringent recruitment processes, child safe practices, training, support and development of staff.
The Y is independently reviewed by the Australian Childhood Foundation (ACF) to ensure our services are safe for all children and young people.